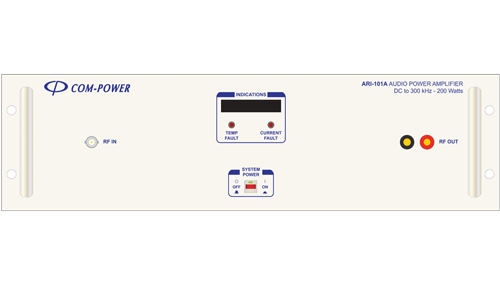 DC to 300 kHz Power Amplifier 225 Watts
The Com-Power ARI-101A Audio Power Amplifier is specifically geared for conducted and radiated susceptibility testing such as that described in MIL-STD-461 (CS101 & RS101) and RTCA DO-160 (Section 18), in addition to other standards.
The ARI-101A operates from DC to 300 kHz with an output power up to 200 Watts (into 2 ohms) and 225 Watts (into 1 ohm).
Frequency Range: DC to 300 kHz
200 Watts Power into 2 ohms - 225 Watts Power into 1 ohm
Protection Circuitry from Input Overload, Over-Temperature & Over-Current
Three-Year Warranty
General
Products Description: Audio Power Amplifier
Application: Audio Frequency Susceptibility Testing
Standards: MIL-STD-461, RTCA DO-160, etc.
Frequency Range: DC to 300 kHz
Output Power: 200 Watts (into 2Ω), 225 Watts (into 1Ω)
Input Signal: 0 dBm (maximum)
Input Impedance: 50 ohms (nominal)
Output Impedance: 1 ohm, 2 ohms
Output Voltage: >10 Vrms (DC to 150 kHz with 0 dBm input)
Distortion: ≤0.3%
DC Drift: < ±1.5 mV (after 30 minutes of operation)
Phase Response: ±5 degrees
Residual Noise: 300 µV
Signal-to-Noise Ratio: -100 dB
Gain Linearity: 0.15%
Common Mode Rejection: -60 dB
Electrical
AC Input Power: 115/230 Volts AC, 50/60 Hz
Input/Output Connectors
Input Connector: BNC (female)
Output Connectors: (2) x 4 mm Banana Jack Binding Posts
AC Power Input Connector: IEC C13 Receptacle
Eviromental
Operating Temperature: 40º F to 104º F (5º C to 40º C)
Cooling: Forced Air
Mechanical
Dimensions(HxWxD): 5.2" x 19" x 15.7" (131 mm x 482 mm x 398 mm)
Cooling: Forced Air