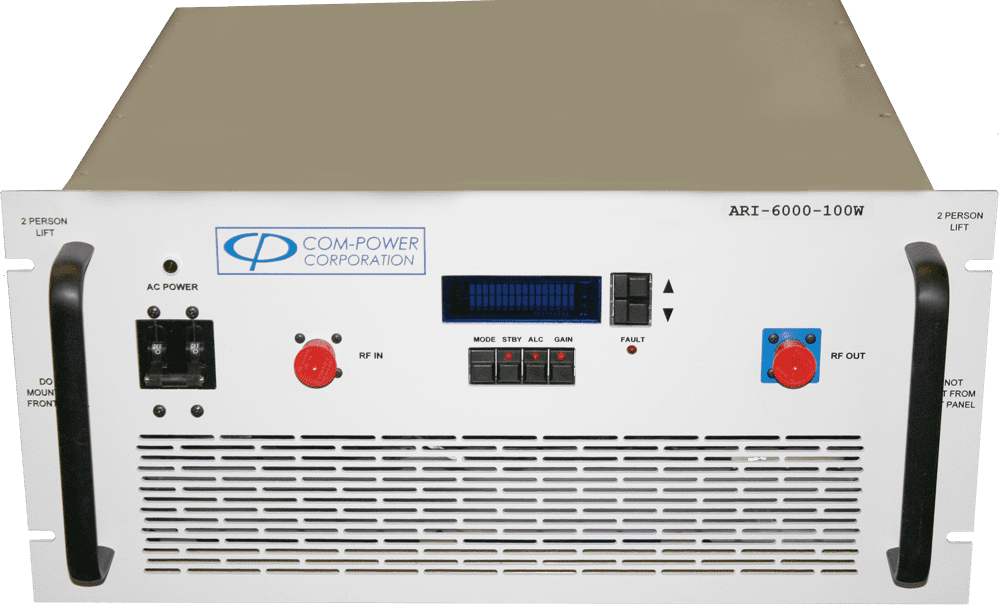 6 GHz Power Amplifier 100 Watts
The ARI-6000-100W is part of Com-Power's series of broadband RF amplifiers; diverse in application, yet specifically geared for use in EMC immunity testing applications. The ARI-6000-100W model was engineered to provide high gain, with excellent efficiency and reliability, at an unbeatable price. It has 53 dB gain minimum, 100 Watt typical power output.
700 MHz to 6 GHz
100 Watts
3 year warranty
Frequency Range: 0.7 – 6.0 GHz
Saturated Output Power: 100 Watts Typical
P1dB Output Power:60 Watts Minimum
Small Signal Gain: +53 dB Minimum
Power Flatness (Pin 0 dBm): ±4.0 dB Maximum
IP3: +54 dBm Typical
Input VSWR: 2:1 max
Harmonics: -20 dBc typical @ P1dB
Spurious Signals < -60 dBc typical @ P1dB
Input/Output Impedance: 50 Ohms Nominal
AC Input Power: 3,000 Watts Maximum
AC Input: 100 – 240 VAC, single phase
RF Input: 0 dBm nominal +3 dBm max without damage
RF Input Signal Format: CW/AM/FM/PM/Pulse
Class of Operation: A
Dimensions: 19" x 8.75" x 24"
Weight: 95 Lbs.
Connectors: Type-N
Grounding: Chassis
Cooling: Internal Forced Air
Operating Temperature: 0° C to +50° C
Operating Humidity: 95% Non-condensing
Operating Altitude: Up to 10,000' Above Sea Level
Shock and Vibration: Normal Truck Transport