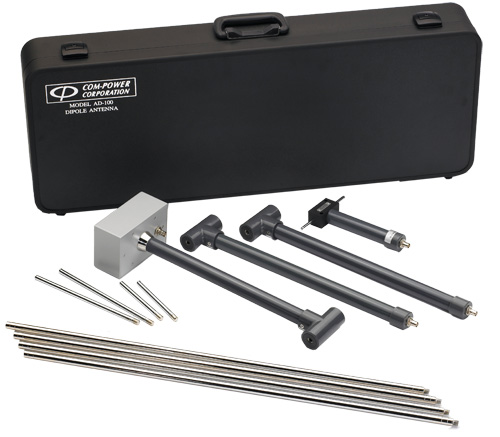 Dipole Antenna Kit- ANSI C63.4
This kit is a reference antenna set specified in many EMC standards with a carrying case. It is used in the frequency range of 30 MHz to 1 GHz. This set consists of four baluns and was designed according to American National Standard C63.4. This reference antenna set is used for EMC test site calibrations and for calibrating other antennas, because it is considered a standard antenna according to ANSI C63.5 standard.
Frequency range: 30 MHz to 1 GHz
Adjustable (Tunable) Elements
Dipoles considered "reference antenna"
Rugged Carrying/Storage Case for transport and protected storage
Three year Standard Warranty
Frequency Range:
Balun 1 (dB1): 30 MHz - 65 MHz
Balun 2 (dB2): 65 MHz - 175 MHz
Balun 3 (dB3): 175 MHz - 400 MHz
Balun 4 (dB4): 400 MHz - 1 GHz
Polarization: Linear
Nominal Impedance: 50 Ohm
RF Connectors: BNC-type(female)
Min. Element Length: 2.6 inches [6.6 cm]
Max. Element Length: 114 inches [290 cm]
Isotropic Gain: 1.6 dBi
VSWR: less than 1.5:1
Specifications: ANSI, CISPR, EN, ETSI, etc.
Weight: 15 lbs [6.8 kg] (including baluns, elemnts & case)