ISN T8 is for Unshielded Telecom Lines.
Its design is based on the circuit illustrated in Figure D.3 of CISPR 22 and Figure F8 of CISPR 32.
The RF Port is a 50 Ohm female BNC connector, located on the top of the ISN. The ISN is equipped with two D-sub 25 pin female connectors located on the front panel (EUT Port) and rear panel (AE Port), providing the interface to the LCL Adapter and Connecting Adapter, respectively.
Frequency Range: 150 kHz to 30 MHz
For Unshielded Telecomunication Lines 1 to 4 balanced pairs
Complies with CISPR 16-1-2, CISPR 22/32
Individual Calibration Included
Standards: CISPR 16-1-2, CISPR 22, CISPR 32
Frequency Range: 150 kHz to 30 MHz
Application: Unscreened lines w/up to 4 balanced pairs
Max. Current rating: 800 mA (per line), 1.6 Amps (per pair)
Voltage rating: 50 VDC / 32 VAC (line to ground @ 50/60 Hz)
RF Port Connector: 50O BNC (female)
EUT/AE Port Connections: RJ45 (RJ11 also available)
Common mode Impedance: 150O ±20 Ohms
Phase: 0° ±20°
Voltage Division Factor: 10.5 dB ±1 dB
Decoupling Attenuation(minimum Isolation)
150 kHz to 1.5 MHz: 35 to 55 dB
1.5 MHz to 30 MHz: 55 dB
Symmetric Insertion Loss: Max: 3 dB ±0.25 dB
Symmetric Load Impedance: 100O
Transmission Bandwidth: >100 MHz
Weight: 1.4 lbs. (0.6 kg) [ISN + LCL Adapter + Connecting Adapter]
Impedance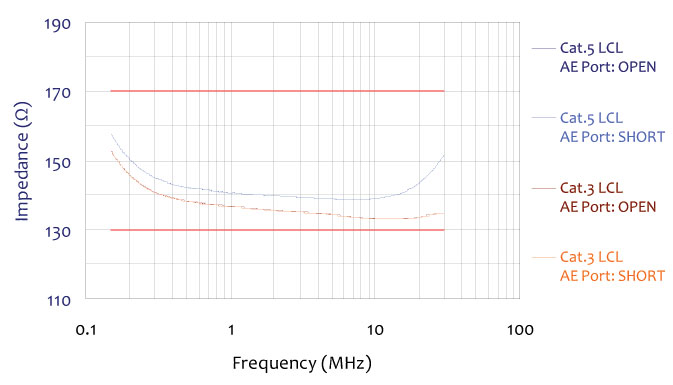 Phase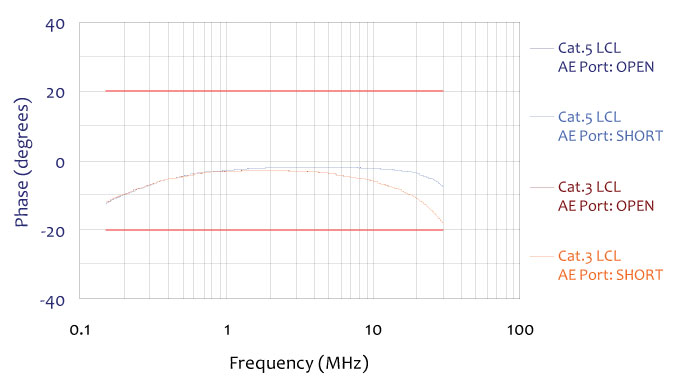 Voltage Division Factor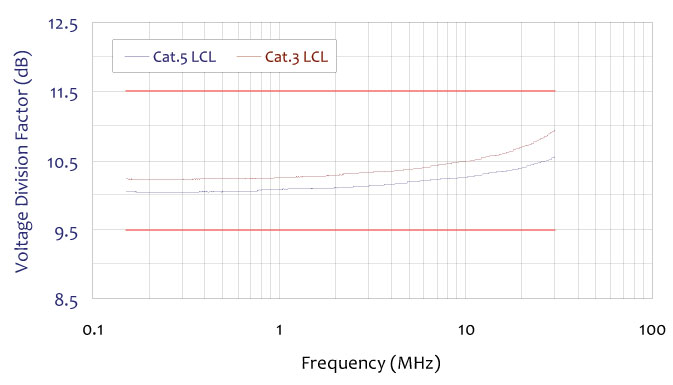 Decoupling Attenuation (Isolation)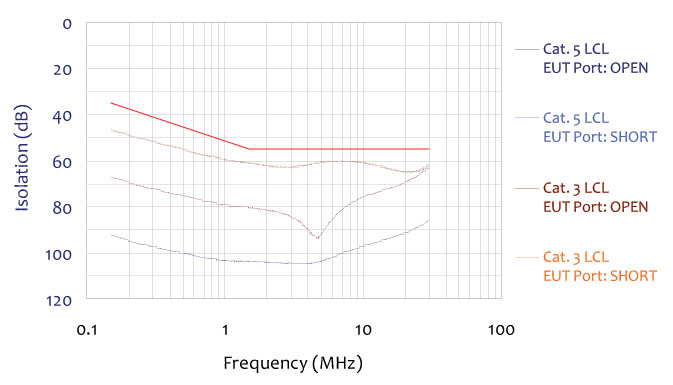 Cat. 3 Longitudinal Conversion Loss (LCL)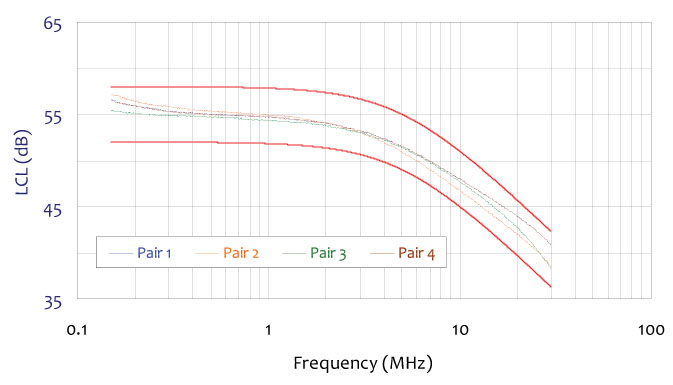 Cat. 5 Longitudinal Conversion Loss (LCL)