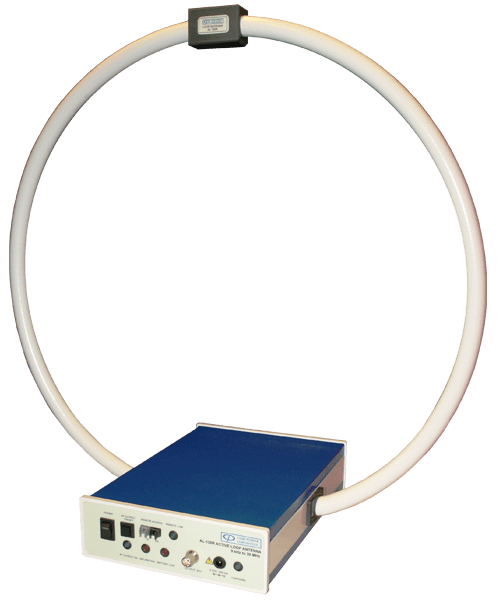 Active Magnetic Loop Antenna
The Model AL-130R is compliant with CISPR 16-1-4. It is ideal for emissions measurements as required by various EMC standards such as FCC 18, CISPR 11, CISPR 13, CISPR 14, CISPR 32 and many more. The built-in, low-noise preamplifier, increases overall measurement sensitivity as well as the overall signal to noise ratio. As per ANSI C63.4-2014, the use of active loop antenna for compliance testing is permitted in a non-sheilded environment ONLY if the saturation indicator is continuously monitored during the course of testing. Com-Power's Remote Antenna Interface (RAI-100) comes in very handy for this application. It is a compact controller which can be used to enable/ disable RF measurement circuit and monitor saturation and battery low conditions remotely via a fiber optic cable up to 30 mtrs in length.
Frequency Range: 9 kHz - 30 MHz
Built-in, Battery Operated Preamplifier
Fiber Optic Remote Monitor/Control option
Electric or Magnetic Field Measurements
Individual Calibration per IEEE 291 Included
Three-year Standard Warranty
Product Name: Active Loop Antenna
Frequency Range: 9 khz to 30 MHz
Loop Size: 19" x 19" (0.5 m x 0.5 m)
Nominal Impedance: 50 Ω (output port)
Batttery Type: 6 VDC NimH (rechargeable)
Average Battery Life: 10 - 12 Hours
E-Field Antenna Factors: 13.4 to 16.4 (average: 14-9) [dB(m-1)]
Saturation Level: >1 V/m / >120dBμV/m (>2.65 mA/m) / >68.5 dBμA/m
Antenna Factor Variation: ±1.5 dB
RF Connector: BNC-type (female)
Specifications: ANSI C63.4, CISPR, EN, ETSI, etc.
Dimensions (H x W x D): 20.1" x 19.7" x 10.6" [51 x 50 x 27 cm]
Weight: 5.5 lbs. [2.5 kg]