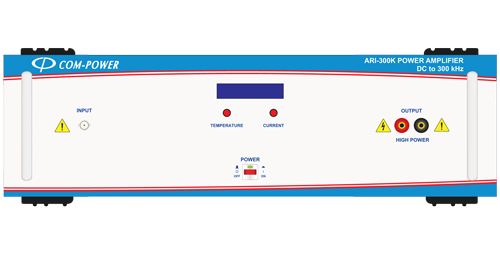 DC to 300 kHz Power Amplifier 300 Watts
The Com-Power ARI-300K Power Amplifier is specifically geared for conducted and radiated susceptibility testing such as that described in MIL-STD-461 (CS101 & RS101) and RTCA DO-160 (Section 18), in addition to other standards.
The ARI-300K operates from DC to 300 kHz. Its output power capabilities exceed 300 Watts into 1 ohm or 2 ohm loads; 150 Watts into 4 ohms; and 75 Watts into 8 ohms (refer to graphs below for minimum output specifications).
The amplifier is equipped with protection circuitry to avoid damage in the case of input overload, improper output connections (shorted or improper loads), over-temperature as well as over-current conditions.
The digital front panel display indicates the internal temperature of the amplifier as well as the bias current. There are also LED indicators for over-temperature and over-current fault conditions.
Frequency Range: DC to 300 kHz
Up to 300 Watts Output Power into 1 or 2 ohms with less than 0.3% distortion
Protection Circuitry from Input Overload, Over-Temperature & Over-Current
Three-Year Warranty

GENERAL
Products Description: Power Amplifier
Application: Conducted/Radiated Susceptibility Testing
Standards: MIL-STD-461, RTCA DO-160, etc.
Frequency Range: DC to 300 kHz
Output Power: (see 'ARI-300K Min. Power Output Specifications' graph)
Input Impedance: 10 kΩ (nominal)
Output Impedance: 6.25 mΩ (nominal)
Output Voltage: (see 'ARI-300K Min. Voltage Output Specifications' graph)
Distortion: ≤0.3%
DC Drift: < ±1.5 mV (after 30 minutes of operation)
Phase Response: < ±1.5 mV (after 30 minutes of operation)
ELECTRICAL
AC Input Power: 100-250 Volts AC (50/60 Hz) 1000 VA (maximum)
INPUT/OUTPUT CONNECTORS
Input Connector: BNC (female)
Output Connectors: (2) x 4 mm Banana Jack Binding Posts
AC Input Connector: IEC C13 Receptable
ENVIRONMENTAL
Operating Temperature: 40° F to 104° F (5° C to 40° C)
Cooling: Forced Air
MECHANICAL
Dimensions(HxWxD): 6.125" x 19" x 23.25" (15.9 cm x 48.3 cm x 59 cm)
Rack Mount Dimensions
(top/bottom feet removed, not including front handles): (3U) 5.25" x 19" x 22.25" (13.34 cm x 48.3 cm x 56.5 cm)