Three Phase LISN for CISPR / ANSI
The LI-3P-2x Series consists of four separate models of fourconductor, 50Ω, 50/250 µH +5Ω Line Impedance Stabilization Networks (LISNs); also known as Artificial Mains V-Networks (V-AMNs). The primary differences between the four models are their respective current ratings:
LI-3P-216
16 Amps (per line, continuous)
LI-3P-232
32 Amps (per line, continuous)
LI-3P-263
63 Amps (per line, continuous)
LI-3P-2100
100 Amps (per line, continuous)
These LISNs provide the necessary measurement platform for performing power line conducted emissions compliance testing per most worldwide commercial EMI/ EMC requirements, such as FCC (U.S.), CE (Europe), AS/NZS (Australia/New Zealand), VCCI (Japan), Industry Canada, etc.
Three phase LISNs
can be operated remotely or locally. Remote switching of the line under test (L1, L2, L3, N) is performed using the RLI-100 Remote LISN Interface, which controls the LISN via fiber optic connection.
In addition to the remote method, the line under test can also be selected using the mechanical, four-position switch located on the front panel of the LISNs. Using either switching method, the lines which are not selected are internally terminated into 50 ohms, while the selected line is terminated by the 50 ohm input impedance of the measuring instrument.
Frequency Range: 9 kHz to 30 MHz
Current Ratings of 16, 32, 63 and 100 Amps
Fully Compliant with CISPR 16-1-2(CE)and ANSI C63.4(FCC)
Remote Switching of Line Under Test
Four-conductor, 50Ω, 50/250 μH +5Ω Networks for 3Ø Delta and Wye Power Configurations
Three-Year Warranty
LI-3P-216
LI-3P-232
LI-3P-263
LI-3P-2100
GENERAL
Products Description
Line Impedance Stabilization Network (LISN)
Application
Power Line Conducted Emissions (Disturbance Voltages) Tests
Standards
CISPR 16-1-2 (CE), ANSI C63.4 (FCC)
Type
50Ω, 50/250 µH +5Ω, (4) Conductor Network
Frequency Range
9 kHz to 30 MHz
Insertion Loss - 9 kHz to 150 kHz
<6.5 to <0.7 dB (decreasing linearly with the logarithm of frequency)
Insertion Loss - 150 kHz to 30 MHz
<0.7 dB
Isolation - 9 kHz to 50 kHz
>0 to >40 dB (increasing linearly with the logarithm of frequency)
Isolation - 50 kHz to 30 MHz
>40 dB
INPUT POWER RATINGS FOR EQUIPMENT UNDER TEST (EUT)
Current (maximum continuous, per line)
16 Amperes
32 Amperes
63 Amperes
100 Amperes
AC Voltage (maximum)
500 Voltsrms (line to line), 288 Volts rms (line to ground)
DC Voltage (maximum)
705 Volts DC
ELECTRICAL
Remote Interface Power Inputs
6 Volts DC (unregulated), 500 mA (LISN and RLI-100 Remote LISN Interface)
Cooling Fans Power Input
Not Applicable
15 Volts DC (unregulated), 500 mA
INPUT/OUTPUT CONNECTORS
Power Input Port Plug (affixed to LISN chassis)
Schneider Electric P/N: 83862
Schneider Electric P/N: 83874
Schneider Electric P/N: 81886
Schneider Electric P/N: 81898
Power Input Socket (for power input cable)
Schneider Electric P/N: PKF16M745
Schneider Electric P/N: PKF32M745
Schneider Electric P/N: 81486
Schneider Electric P/N: 81498
Power Output Port Socket (affixed to LISN chassis)
Schneider Electric P/N: PKF16F745
Schneider Electric P/N: PKF32F745
Schneider Electric P/N: 81286
Schneider Electric P/N: 81298
Power Output Port Plug (for EUT power cable)
Schneider Electric P/N: PKE16M745
Schneider Electric P/N: PKE32M745
Schneider Electric P/N: 81386
Schneider Electric P/N: 81398
RF Measurement Port
50Ω - N-Type (female)
Fiber Optic Ports
Avago Duplex Latching POF Jack (LISN and RLI-100 Remote LISN Interface)
Remote Interface Power Input Ports
5.5/2.5 mm Power Jack (LISN and RLI-100 Remote LISN Interface)
Cooling Fans Power Input Port
Not Applicable
5.5/2.1 mm Power Jack
ENVIRONMENTAL
Operating Temperature
40°F to 104°F (5°C to 40°C)
Cooling
• Louvered Side Panels
(no forced air)
• Louvered Side Panels
• Forced Air by (2) user-controlled, internal fans with (2) 4.5" circular intake openings on rear panel (each opening protected by a circular metal finger guard)
•(2) 4" square air outlets located on the top cover (each opening protected by metallic mesh)
Dimensions & Weight
See Datasheet
Typical Impedance Data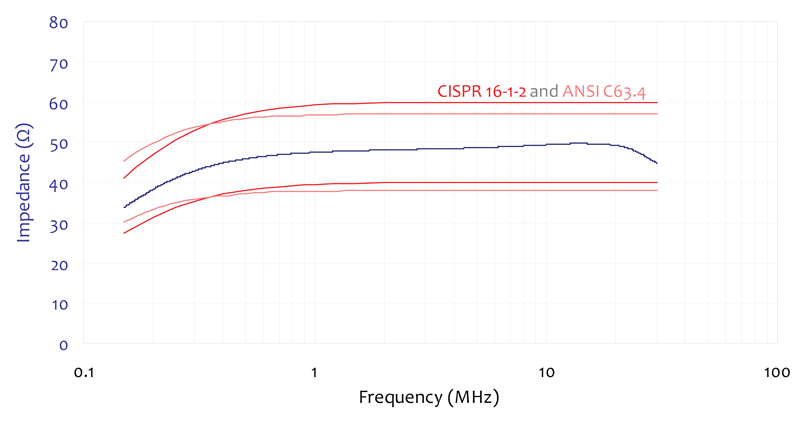 Typical Phase Data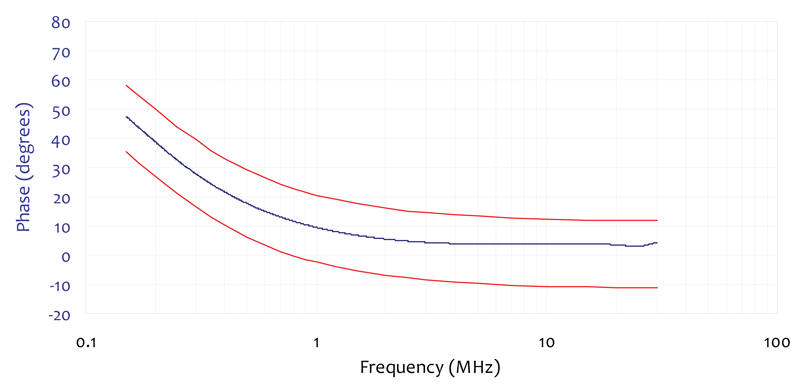 Typical Insertion Loss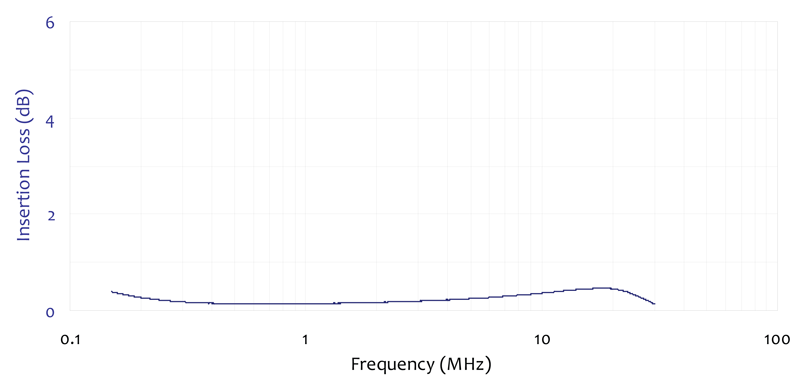 Typical Isolation Data