The CIS series test systems are configured to perform conducted immunity testing according to IEC 61000-4-6. The system includes ACS series power amplifier...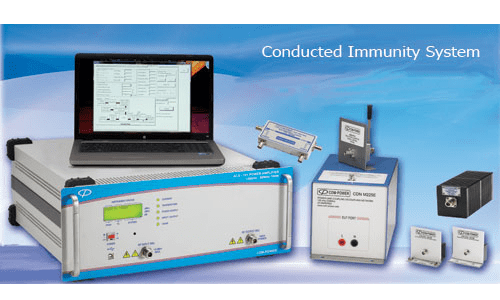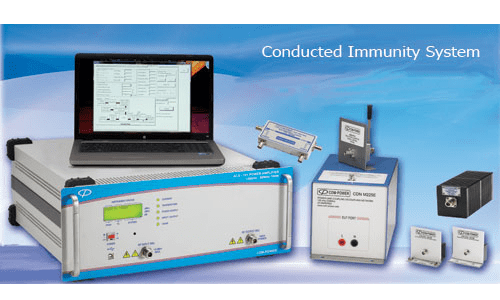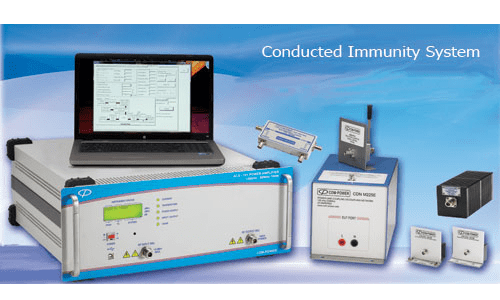 Configuration and Accessories
A typical setup for test level calibration includes an RF signal generator connected to the input of a power amplifier. The power amplifier output is connected to the RF input of a CDN, typically through a 6 dB power attenuator. Connected to both the EUT and AE ports of the CDN are the common mode [shorting] adapters, each of which is connected to a 150Ω to 50Ω Adapter. On the AE side, the 150Ω to 50Ω Adapter is terminated into 50Ω, while the 150Ω to 50Ω Adapter on the EUT side is connected, through an attenuator, to the 50Ω input of a spectrum analyzer or receiver.
At each test frequency, using the setup described above, the input level to the CDN is adjusted incrementally until the appropriate rms voltage level (Umr), is measured on the spectrum analyzer or receiver. The Umr value is not to be confused with the open circuit voltage test level (Uo). The relationship between Uo and Umr is as follows:
In linear terms: Umr = Uo / 6
In logarithmic (dB) terms: Umr (dB[μV]) = Uo (dB[μV]) - 15.6
Given the number of test frequencies, [633 for tests up to 80 MHz, 739 for tests up to 230 MHz], the level setting process can be very tedious and time consuming if done manually. The CSAT software can automate the entire level-setting process, as well as the testing process.
Our RF conducted immunity test systems are a convenient starting point that you can expand as needed. We would be happy to discuss your testing needs and put together a complete package containing all of the necessary equipment and accessories. Call or email us today to get started.